Posted August 08, 2013 by Nathanael Ferguson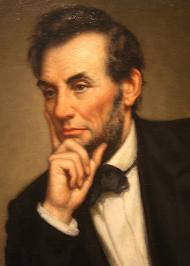 Just five months into his presidency on this day in 1861, Abraham Lincoln reviewed Col. Dan Sickles' New York Brigade along with regiments from Wisconsin.
Sickles was an interesting character before, during, and after the war. As a sitting member of the United States House of Representatives in 1859, Rep. Sickles shot and killed his wife's lover who was the District Attorney of Washington, DC and also happened to be the son of one Francis Scott Key. After a sensational trial, Sickles was acquitted and went back to work in Congress. (Yes, he murdered a man in cold blood, was acquitted, and didn't bother to resign from Congress.)
At the outset of the Civil War, Sickles raised volunteer troops from his home state of New York, was made a regimental colonel, and led men in combat. He rose to the rank of brigadier general and was engaged in many famous battles of the war. Most notably, during the battle of Gettysburg, Gen. Sickles disobeyed Gen. Meade's orders to hold a position on Cemetery Ridge and instead moved off the ridge and took a position forward in the infamous Peach Orchard where ...
Read More