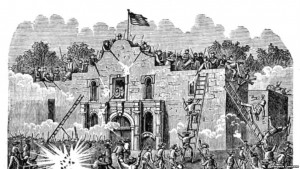 Today we mark the anniversary of the fall of the Alamo 181 years ago. The brave men who died there did not have to; they could have escaped and survived. They chose to stay and fight because some things are worth fighting, and yes, dying for. It is because of their courage, grit, and devotion to liberty that we have the benefit of living in Texas today.
Our modern Texas remains a beacon of hope and liberty to millions, not only in other states but across the world. The Spirit of 1836 lives on and courses through the veins of every Texan, native born or otherwise. The blessings of liberty that were secured with the price of blood and which have been handed down to us through the generations for 181 years are our responsibility to guard, preserve, and pass down to the next generation.
As the 85th Legislature works this session to serve the people of this great state, we encourage members of both chambers and both parties to apply that same spirit in their approach to lawmaking. As our public servants remain committed to liberty and limited government, we continue to honor those who willingly sacrificed their lives for the same and we guarantee the fulfillment of our responsibility to our children and grandchildren.
Remember the Alamo!
Posted March 06, 2017 by Nathanael Ferguson